13.7.2020 • Liiketoiminnan digitalisointi ja tiedolla johtaminen
Power Virtual Agents & You: Integrating Bots Into Microsoft Teams Without Coding
Applications built into Microsoft Teams make it the Hub for Work by delivering integrated experiences to users using a unified canvas. Teams apps can empower your business, office, and firstline workers by letting them take advantage of your backend systems all from the palm of their hand.
Teams Application Templates and Power Virtual Agents have the power to extend Teams with bots quickly. You can integrate App Template bots into a production in a matter of hours, and Power Virtual Agents are even faster than that with a simple conversation flow.
When working in a real-world situation, you always do the first tests and proofs in a development or testing environment. It's here where you can see what value you will get from the app/bot and how well it fits the needs in your organization. The key here is that you can start your bot Proof-Of-Concept (POC) in a matter of hours!
How can you extend Teams with these apps?
First, it's important to state that bots are apps as well. They're just more conversational in their nature than, say, sending a message via Teams to every user in your organization.
Apps extend Teams in several ways including:
Tab applications (like PowerBI reports or SharePoint pages in a channel tab)
Message Extensions (like Praise or Stream)
Message Actions (like creating a Polly poll based on a single message)
Notifications from various apps. Instead of checking the app every ten minutes, you can act the moment you get the notification.
Bringing apps to Teams. PowerApps can be brought into Teams without changes, SharePoint web parts (SPFx) can be added to Teams as apps with minor changes.
Having bots you can use in a conversational way (and that can be made richer and more interactive with adaptive cards)
Some uses for bots in various organizations include:
FAQs. These can save your organization time and help you get answers without involving IT in the process
Several forms (IT support/team/travel/day off and various other requests)
Inquiring information from the back end (available vacation days/saldo hours, updating personal information, etc.
Reporting leads, getting customer or project information, reporting hours, asking for assistance, and so on
As can be seen, bots are very versatile and can be used in many processes. Instead of filling out a plain form, bots let you answer questions interactively. On the one hand, these bots already work with mobile Teams. On the other hand, trying to fit just any form into a bot conversation won't do; some just don't work properly. Instead of trying to recreate your current processes 1:1 in Teams, reconsider what's essential and how the process would be best supported by Teams bots (or other platform capabilities).
What Are Teams Application Template Bots?
These bots are production-ready packages you can deploy and start using in your Teams. They use several Azure resources, so you need to have enough permissions to spin up resources and a suitable subscription when you are doing the deployment.
All application templates are open-source and come with source code that you can download, edit, and utilize even more. This way you can also check the application internals if your organization requires a review process. There's also information in each apps' architecture and even cost estimates.
There are several benefits you get from application templates:
They make it easy to get started. You don't have to be a developer to deploy these.
You get more understanding of how to utilize Teams as an app platform.
If POC/test/pilot proves that these apps match your needs, you can deploy them to your production
For developers they serve as a kickstart and example code of what utilizing several different Teams app capabilities can do
Power Virtual Agents
If you thought it was fast to get started with Teams bots using Application Templates then you've seen nothing yet!
The new cool player in town is Power Virtual Agents. These agents come in a package that has it all: the platform, AI, machine learning, integrations, and a design canvas. With Power Virtual Agents you can create versatile conversational bots without any code or understanding of machine learning/AI, and you can even connect them to business processes without being a developer with a coding background. Power Automate can be used to extend conversational processes, and with this #lowcode platform you can use resources and do actions both in and out of Office 365.
When you sign up for a new Power Virtual Agent service it only takes about 15 minutes for you to get an example bot in place. Modifying example topics/setup to suit your immediate needs can be done in just minutes. Of course, it often takes a lot longer since the process is iterative and you rarely have the design done in advance. If you just have some simple Q&A questions it doesn't take a long time, but businesses typically have larger needs.
What is especially great about PVAs is their language understanding (limited to English at this point). You don't have to define topics for every possible variation—instead, the PVA platform will try to figure out what you meant and pick paths based on that. It has proven to be rather useful in my experiments, and it's easy to edit these topics later as well. And yes, this is done without any coding in a visual design canvas.
Power Virtual Agents are the new "superpower" answering to quickly changing or rising needs. Combining the conversational AI "magic" with Power Automate allows power users and citizen developers to digitalize conversational processes super quickly.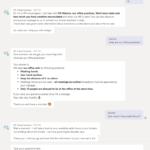 Do not wait but get started with these #nocode #locode Application Template & Power Virtual Agent bots!
.. they are not scary at all!
If you are interested to learn more on the subject, a longer version of this post can be found here