7.11.2022 • Metaverse & AI Modern Work
What's new in Microsoft Whiteboard today and what's on the roadmap
Reports of the blog post Vesa Nopanen wrote to his own blog.
Whiteboard is an essential tool when it comes to working together in the Metaverse. Since you can use, for example Microsoft's version, Whiteboard across multiple devices to bring everyone together to the same digital canvas it is a true Metaverse-tool. For example you can work on the same digital board using your laptop, your tablet, with Surface Hub or even using your phone or in the upcoming Microsoft Mesh Immersive meetings. This means that Whiteboard is working through all different verses – people could be in the meeting room and physically draw on Surface Hub together, while some are in the virtual Mesh Space and see what's happening at the same time. And let's not forget how Loop components will be making Microsoft Whiteboard even better in December (current roadmap target) and forward: inserting a Loop component to the Whiteboard allows people to change it's content where-ever that same component is places: in Teams, in Outlook and in Word web version (this one is coming soon – my guess is December-January , fingers crossed).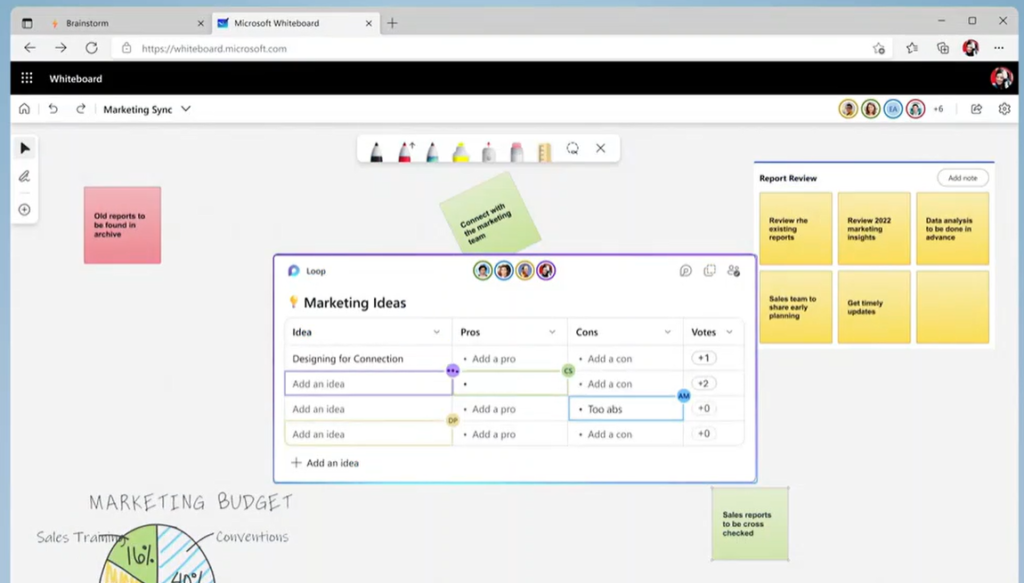 This means that people can be working on the same board synchronously or asynchronously from "everywhere" – they may be typing to the Loop component, adding notes or adding new elements there. A truly versatile tool that will enable to make facilitation and workshopping in the Metaverse a true hybrid experience.
I have also tried Meta Horizon Workrooms, but I have to say that it does lack a lot of features when comparing to upcoming Mesh Spaces. The Whiteboard in Meta Horizon leaves a lot of hope for improvement and the overall spaces do not feel they would enable the work there as intended. Of course Meta Horizon Workrooms are already there (and I will start exploring them more with my new Meta Quest Pro, expect some articles about this later!) and Mesh immersive spaces are not yet out for use.
Looking at Microsoft Ignite videos I don't think it will be a very long time until we will be seeing Mesh immersive spaces in action. With Meta and Microsoft partnership and ability to join Teams meetings from Meta Horizon and especially the ability to use Meta Quest devices to join Mesh Spaces and utilize Microsoft 365 apps (Word, Excel, PowerPoint, Outlook and SharePoint) & later Windows 365 cloud PC can also mean that perhaps Horizon Workspaces will be deprecated and business users are encouraged to use Mesh Spaces instead. And to make that a win-win I would not be surprised to see Microsoft then supporting Horizon Worlds and Venues as commercial Metaverse platform with Mesh integration. Pure speculation, but would be a interesting step in making the one "true" Metaverse. At least they both have a huge user-base combined (thinking number of Facebook users and Teams having 270+ Million Monthly Users already).
I am going to leave that thought to linger in the metaverse and come back to the Microsoft Whiteboard. It has made great progress during the past year – transforming itself completely and catching up on competitor's features. For example the one of big recent changes was the ability to choose which Whiteboard to use in a Teams meeting and allowing external attendees to work on the same Whiteboard during the meeting. What people hope to see next is the ability to share Whiteboard with externals outside meetings as well. Of course the well of wishes is a deep and full but the Microsoft Whiteboard seems making progress there all the time. One feature at a time.

Microsoft Whiteboard new features: links and videos
The latest features added to Microsoft Whiteboard has been the ability to add video and links there.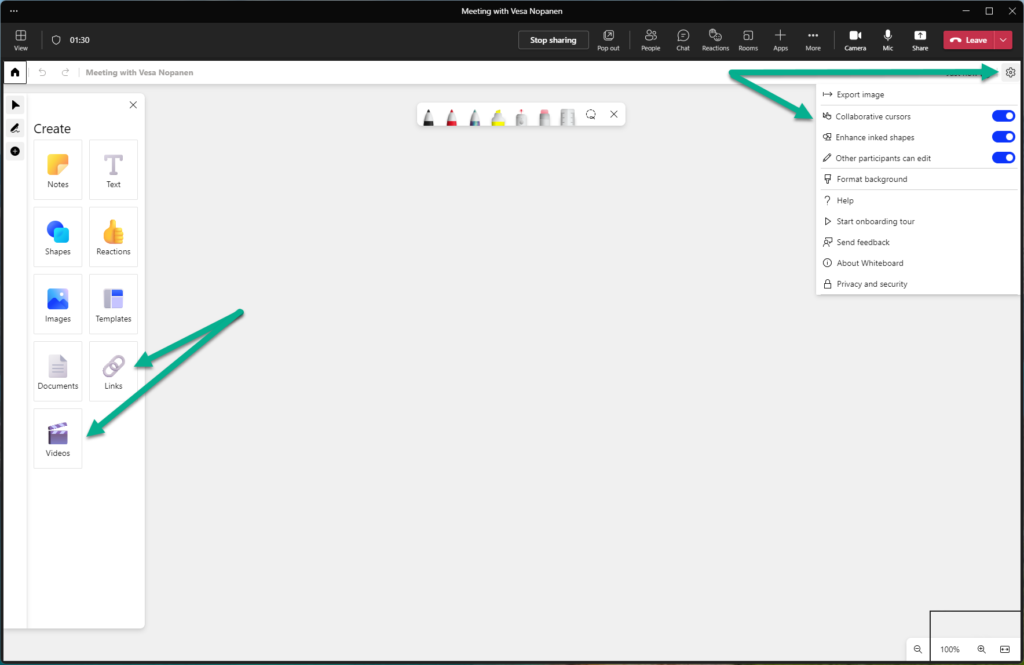 On the left you can see actions you can use to add links and videos. On the right I put arrows to remind about the Gear-icon and that you can get to the Whiteboard settings via that. I have found I keep all those three on by default, only turning them off when a specific need arises.
You can add links and videos in two ways: using actions or just by pasting them to the board. Let's go through actions first.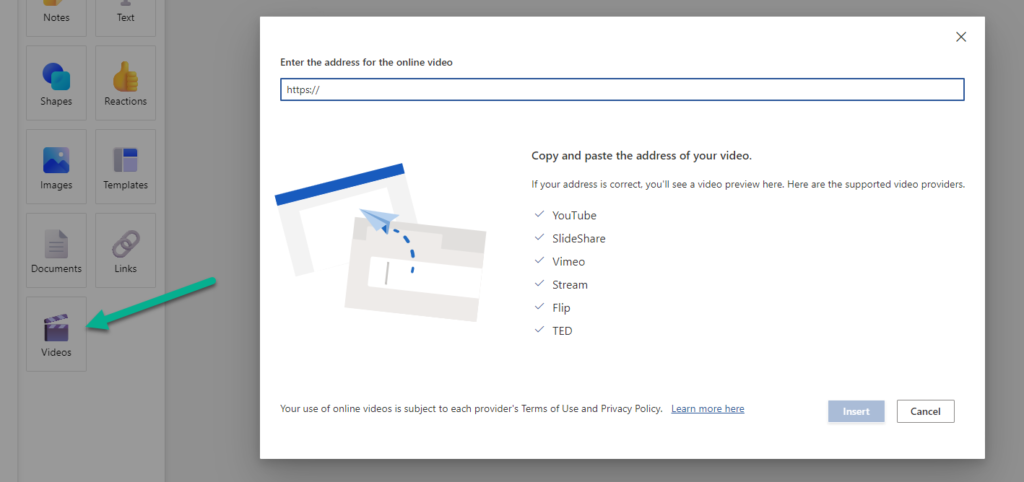 Just hit on Videos and you can paste the video url to the box. You can paste videos from YouTube, SlideShare, Vimeo, Stream, Flip and TED. Unfortunately not just all videos are supported. No, you can not add your mp4 file to the Whiteboard unfortunately. But you can add GIFs via adding Images. That is one way to get some moving content uploaded to the board. I really think the Whiteboard team should enable adding some apps/extensions to the board so the community / ecosystem could start developing their own apps – timers (yes, this is already on whiteboard roadmap – but perhaps people would love to have different kind of timers there ), polls (why not add Forms Polls here, Whiteboard PG?), Tasks, Project management and so on – or just perhaps ability to add Power Apps would open a lot of business opportunities. Just as I mentioned: well of wishes is deep and full.
Once the URL is pasted you can see a preview and then hit insert.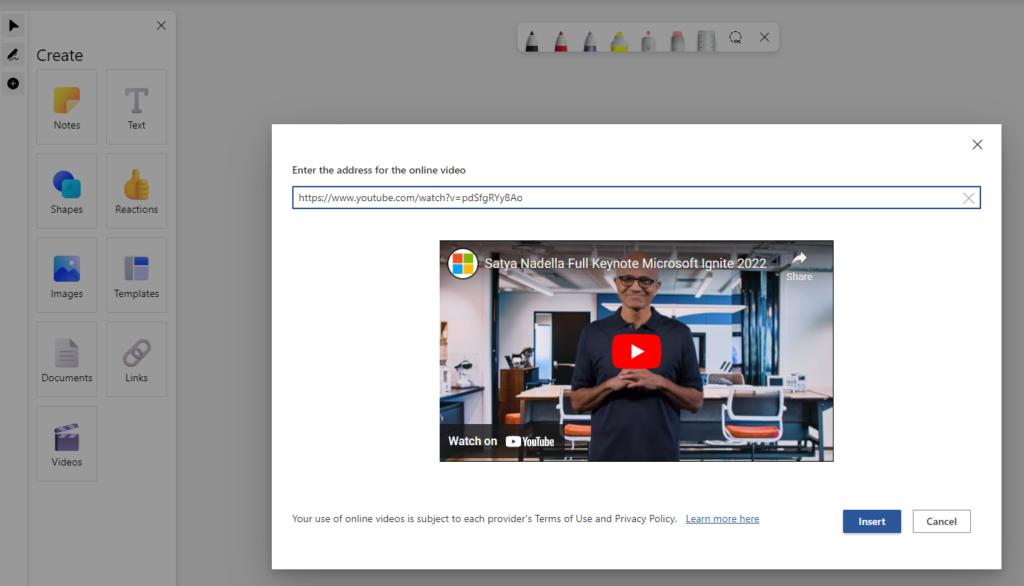 And there it is!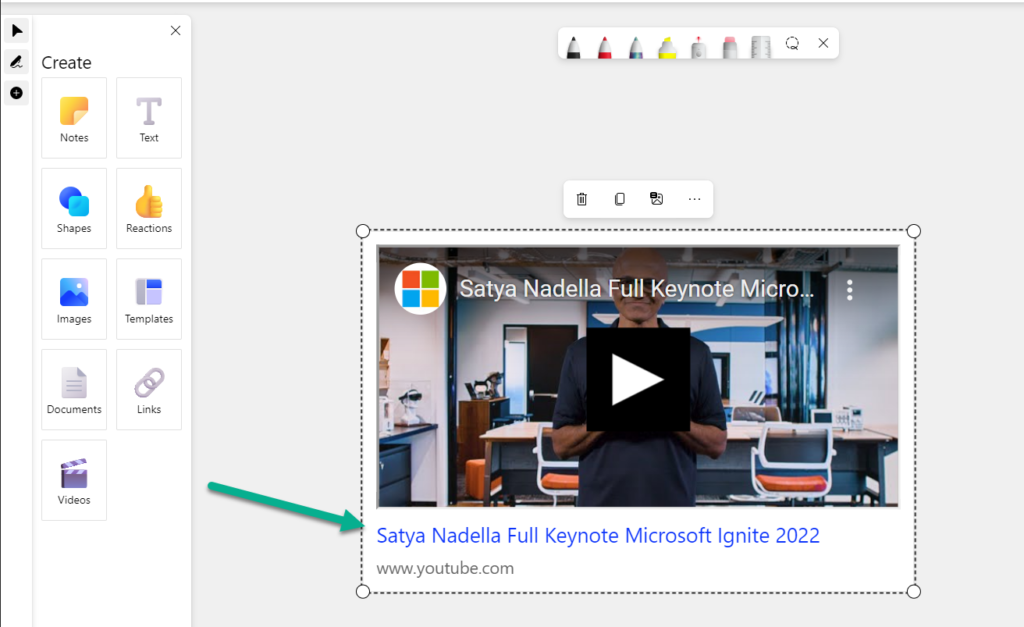 It is also good to know that the video URL is clickable. You can also copy and paste the video, and edit it's size and rotation – as well as move it to front and back or lock it to the background.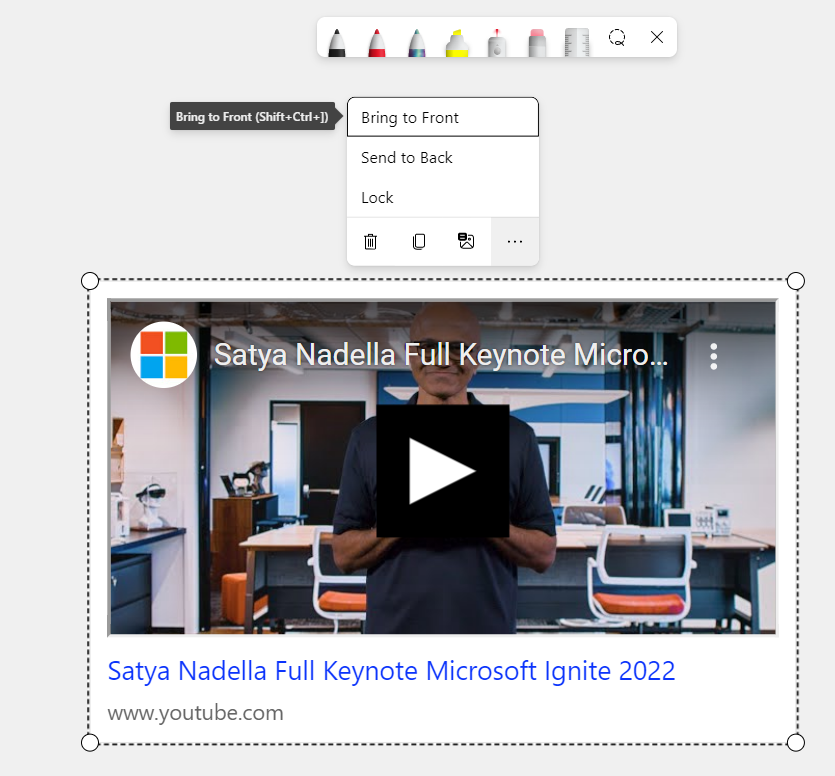 It is also worth noting that you can insert Alt Text to videos and many other objects in the Whiteboard.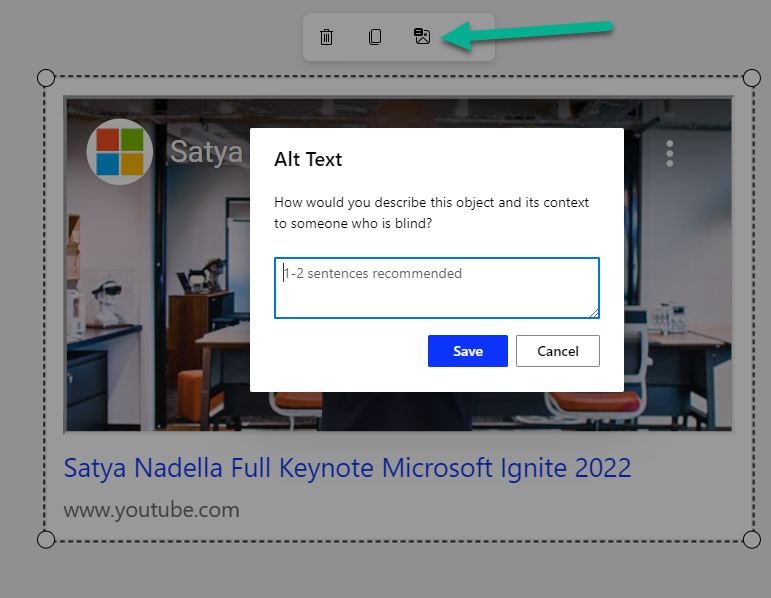 Inserting a link is a very similar experience. You hit the Link actions and you can then paste the URL there.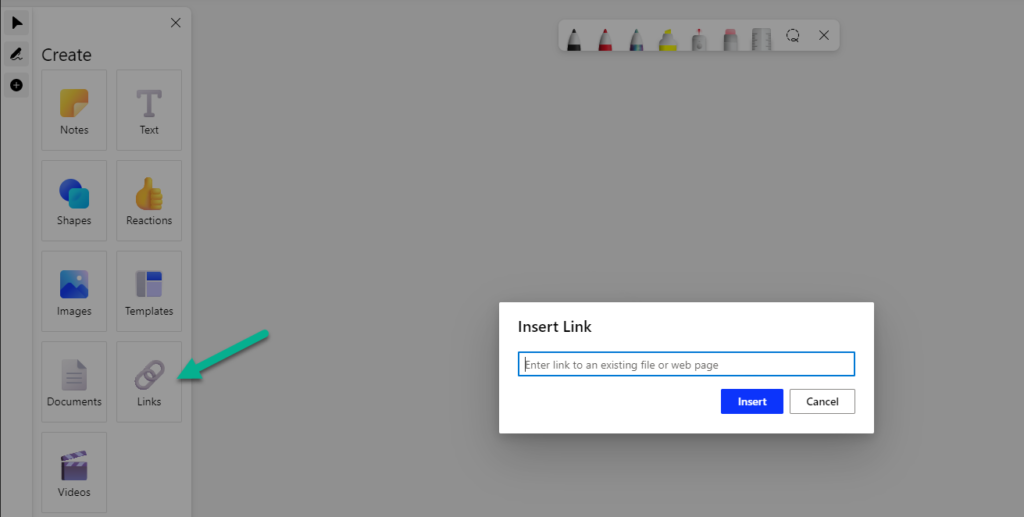 And just like with videos the link is actionable – you can click it to open the target to the web browser.

And yes, you have all the same options with links as with videos: resize, rotate, copy-paste, alt-text, moving it front/back and locking it. Just like any other object in the Microsoft Whiteboard.
And here is also a video about using copy-paste and resize/rotate on video & pasting a link.
What's next for Microsoft Whiteboard (the Roadmap)
Roadmap as of 22th of October. I have a hunch that Text formatting will be moving to November, unless Whiteboard team makes a late month surprise.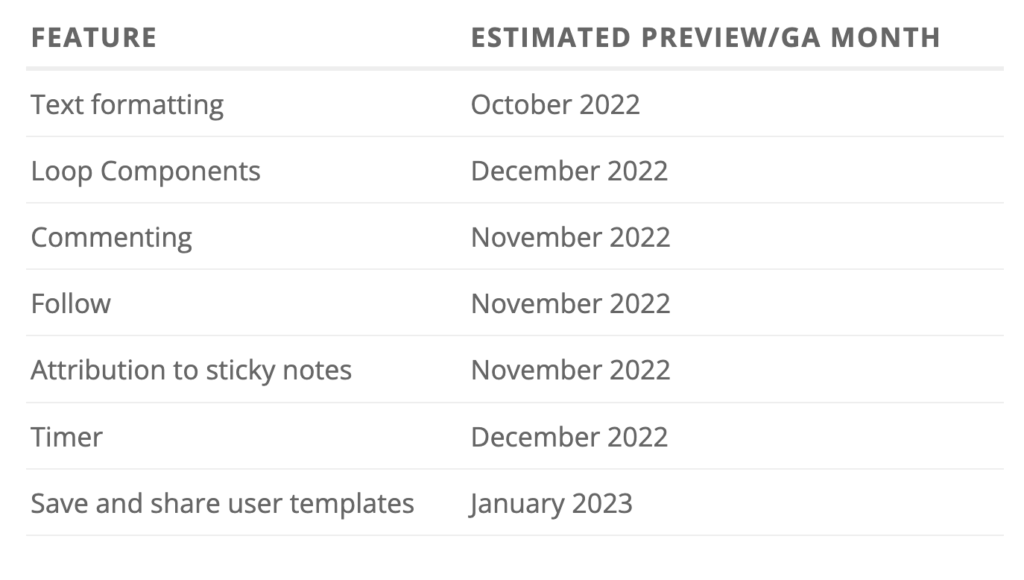 Microsoft Loop
In this snip from Microsoft Ignite you can see how Microsoft Loop is being used across different apps – Teams, Loop, Mobile, Outlook, Whiteboard and Word.