25.11.2020 • Modern Work
Teams as a Platform
For employees starting their day Microsoft Teams is the front door to your organization. Opening the door provides them tools, services and collaboration related and targeted to their role. They get access to applications that are integrated to backend and other systems and they can interact with Teams UI to get access services and processes available to them while performing tasks in a single user interface on any device – inside Microsoft Teams.
It may sound like a future vision but this is already the reality and used in several enterprises throughout the world. Applications and integrations brought into Teams make it possible to create this to every organization and to every user since it is possible to distribute applications, automations and other available capabilities based on user's role.
When thinking about Microsoft Teams we tend to focus on things we have used in past 9 months: meetings, calls, conversations, editing documents, working together on projects or sales materials: collaborating with our colleagues, partners and network. We might have added some applications to Teams as well (Polly, Trello, Youtube, ..) but they feel like "add-ons" and not part of the real business process. This is partially a change in the way we think we should be used Teams but also that we haven't unleashed the full potential Teams can provide for our organization and to it's success.
How long does it take to train users to get started with new traditional business solutions? Typically you need to use a yet another web page used to log into the solution. Or you need to install / distribute a new application to the mobile device and sometimes add a VPN-connection there as well to be able to access the backend system from outside company network.
Teams makes this a very different experience: users log into Teams and they find apps and capabilities there – already available. Very often these apps extend Teams in a natural way so they think user don't have to think these would be somehow separate experiences: they are using Teams and business apps at the same time. This shortens the learning curve and thus makes adapting new tools quicker and getting benefits earlier. This all sums to the Return of Investment which happens faster with Teams applications.
When your business specific applications are part of employees' Teams experience there is a one added benefit: notifications from backend services can go directly to Teams activity feed. This way user sees the context (summary messages) and can take actions to the message immediately (taking user to the right portion of the chat or application directly) to act right away. This reduces delays compared to ,for example, email notifications that have a link taking user to sign into a another app or portal. Utilizing this for different services and approval processes reduces delays and thus makes the business process complete faster.
The big key thing with Teams is however the ability to do "everything" inside one user interface. Everything is quoted because it naturally has limits but designed in a smart way business applications surface the most often needed & most critical parts to users via Teams. Randomly used needs, especially those used by only a few people, should stay in the original service to keep the cost lower and usability higher in Teams. This leads to less need to switch between applications and acting on notifications meaning in reality users are more productive and save time since they don't have to login and out of different applications. They just do everything inside Teams.
Power Platform ❤ Microsoft Teams
The need for quick to develop and deploy applications is greater than ever. Organizations, divisions and teams have their unique needs in the business and the changing world makes it necessary to be able to reflect that in applications and processes rapidly. As a low-code solution the Power Platform builds on the Teams as a Platform story with important blocks by enabling power users and citizen developers to use their business knowledge and transform it to working solutions. Constructing the outcome from vision to reality in Microsoft Teams helps users again to adapt these tools into use with a very low learning curve.
Some capabilities Power Platform brings to teams are automating tasks and data processing, creating even team level context-aware application, acting based on messages and of course building full applications with Power Apps. How about creating smart bots with Power Virtual Agents that can take off load from your support organization? Bringing in business reports and KPIs directly to management team members using Power BI? Several solutions can be build in-house or with some guidance from our consultants but when the size grows the more formal and managed the development curve needs to be. We have customers who get buy it as a full solutions, with some customers we help & guide them to take rights steps and some customers opt to attend our courses so they can learn more and use that knowledge to build their own applications. The beauty of Power Platform is in the scaling from personal productivity to organization wide solutions that are managed, governed and distributed by company administrators. Quite super, I would say!
One trait that is strongly attached with Power Platform is the rapid response to change: a shot idea-to-daily use timespan.
Use bots to reduce load at support

It hasn't been heard once or twice how key supports teams, like HR and IT, are under a heavy load. They are being bombarded with routine questions and processes more often than you'd think. What are our benefits, where I report the expenses, my mouse doesn't work – how do I get a new one etc etc.. A decent knowledge base with smart language understanding can fix out a big chunk of questions. How about routine cases like solving computer issues with questions, fetching information from backend systems to users (how much I have worked overtime, I need to update my tax / account information, … ) to just simply asking can I be on leave in a specific time. All this is part of the digital transformation but for the average employee and support team member it is about saving time, providing answers and getting things solved as quickly as possible. Even 24/7. This is why smart conversational bots are a big future thing and recent changes (Project Oakdale) brings Power Virtual Agents usable in teams without having to buy a currently sold (that easily expensive in the internal use).
And with Project Oakdale you can create bots even at project team level. How about creating a Q&A base with that and also adding some logic how project related tasks could be performed without going to some web page that requires a separate authentication and VPN. Usually integration with hour reporting system is one of those very often used ones.
A big thing is that Power Virtual Agent bots work in the Teams mobile. This allows lots of employees to use chat interface from anywhere (adding orders, checking warehouse information) with just the Teams app. While some Power Apps can be heavy for older model phones the chat part doesn't require wonders from the mobile device.
Examples
There are often leads and opportunities in Teams discussion. Traditionally someone from sales needs to create an entry to CRM manually

Create ability to send the message in Teams for sales team for approval & filling details to be automatically added to CRM


Firstline workers encounter different issues on the field that needs to be added to formal process, but those tools are rarely usable by BYOD mobile device.

Create a Power App that is part of Firstline worker's Teams with rich functions (location, camera) to report issues easily while on the field and start a process without delays.
When customer asks for information it is better to be able answer the request promptly, instead of waiting to get access to the desktop computer to retrieve information.

Create a Power Virtual Agent bot or Power Apps that are part of Firstline worker's Teams and used to connect to backend system to retrieve information. Power App can use camera to read the barcode and show relevant information right in the app.
When doing a sales meetings and sharing the content it might not be easy to connect to CRM/ERP for details and notes are not entered to the system. Meetings can be soon extended with applications, allowing interaction with audience but also information, data entry and actions that are only available to organizers. Also useful When conducting the job interview via Teams the similar situation occurs with HR system.
Interactive Training for company specific scenarios, like during an onboarding, to engage and focus people more than just by watching a video or reading a manual
How you can extend Teams? I have used this table in my webinars and sessions as example how versatile possibilities are. Not every application is utilizing all options, but instead it is important to focus what is the business process and need. Looking at the picture should bring in ideas how the service could be surfaced in Teams so it is extending it naturally.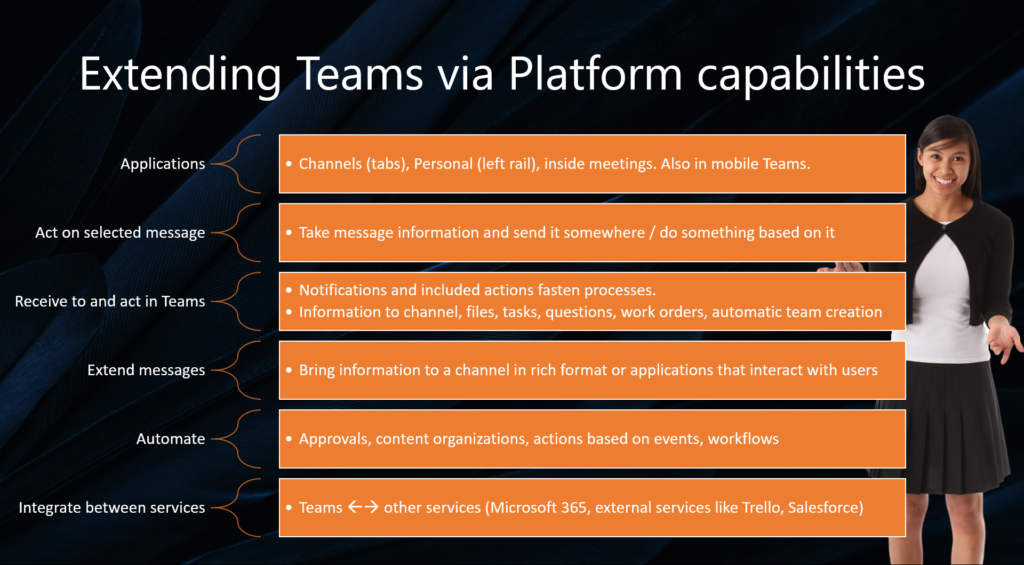 Microsoft Teams is a hub for business services everyone in your organization uses. Backend and other systems are integrated to Teams on essential points to reduce context switching and thus improving productivity. Since applications and services are used directly from inside Teams the learning curve and onboarding time is shorter, thus creating a much strong return of investment for Teams application compared to traditional way to build new applications. Utilizing Power Platform makes it possible to create new applications and solutions quickly and efficiently to match changing business needs. And since Power Platform solutions are implemented in days to weeks instead of months this only improves the Return of Investment.
How to get started? Take a look at our POC & Roadmap offering and let's talk!