14.1.2020 • Modern Work
What is Microsoft Teams in 2020?
Blog has been updated August 2020
Microsoft Teams saw the light of day on 2 November 2016. Over the past three years, Teams has lived, developed and grown into a versatile teamwork application – a hub for teamwork, or actually just work. It has taken several different capabilities under its wings and gives the users access to them via one user interface.
What is Microsoft Teams?
Teams is a digital team, project and organisation tool that enables flexible teamwork both inside an organisation and across organisational boundaries. Teams enables communication, conferences, calls, access to all data and resources, keeping up to date and reacting to issues, quickly if necessary.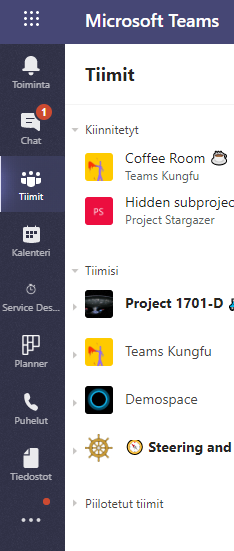 Teams brings together all of your team spaces (and a few other things), making it a real teamwork hub. This contemporary way of working benefits you, your team, organisation, partners and customers. The countless benefits of Teams include transparency, data & resource accessibility and recyclability, flexibility and participation regardless of the device, location and time, network engagement, equality and efficiency. The employee is able to allocate their time to the core work.
Teams works flexibly on many different devices:
Windows app for the best user experience
Mobile apps (Android, iOS)
Conference room, desk phones and other Teams equipment (Microsoft Teams Rooms) – limited to meetings and calls only
Internet browsers, some of which also support meetings and screen sharing. Using Teams on a browser does not require an installation of an extra application. This is particularly useful when working with a partner who does not have access to Teams.
Mac app
Linux application (the first version was launched in December 2019)
Surface Hub
In other words, Teams has become a versatile and scalable teamwork platform. At its core is the unique way the tool connects people, chats, files, applications, calls and meetings under the same user interface. More and more applications (such as tasks, notes, Dynamics CRM or PowerApps) are available via Teams, so there is even less need to swap between applications. There has been a vast amount of features added recently. One of the eagerly anticipated ones was large gallery view and together mode in meetings.
Accessibility became a key theme in Teams in 2019. Teams enables more users to participate in teamwork, which facilitates the work itself, opens new vistas and makes the organisation more equal. Features such as translating messages to the user's own language or subtitling a meeting (at the time of writing, the pre-version only supports English subtitles) help each and every one of us in the multicultural Teams environment. Reading messages out loud or increasing font size or contrast make life easier for people with a visual impairment. In all likelihood, there will be more investment in this area so that the information covers all members of the team.
During first half of 2020 Teams grew to make it possible to businesses and organizations to continue working in the new normal situation. Teams saw a rapid and huge growth of users as it was taken into active use in all kinds of organizations from enterprises to education. Working from home (or anywhere) was strongly supported with the help of Microsoft Teams and it also gained quickly more features to support better large meetings and firstline workers for example. During first half of 2020 it was also seen how Teams evolved more to become a platform that can be used throughout company processes.
Microsoft Teams – Key features
Teams is getting more and more versatile features that are updated on a monthly basis. Here are some of the key features you will get access to when switching to Teams.
Teams features e.g.:
Activity feed
The feed provides you with notifications that are relevant or potentially interesting to you (such as 'trending' notifications). You can make a wide range of changes to the notification settings, so that each team member is able to tailor Teams to support the way they work without constant notifications breaking their concentration..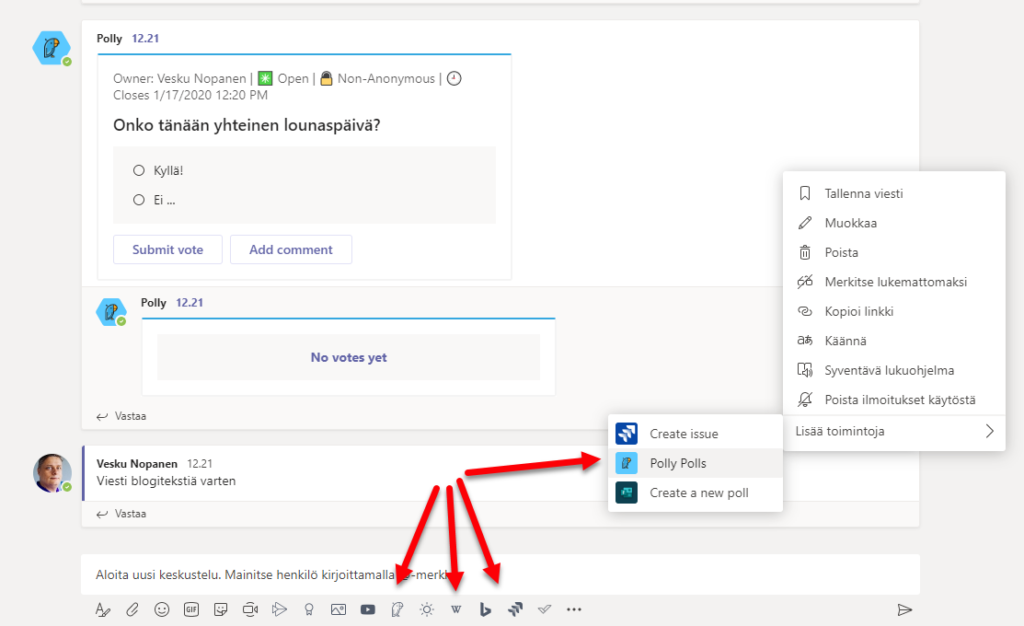 Chats
Either private or team chats that are not directly related to any specific team or channel. Calls can also be started via the chat, with or without video, as well as screen sharing without a phone connection. The latest addition is a 1:1 chat between persons in different organisations, which comprehensively supports the features of Teams. In order to keep this so-called federated chat going, both organisations and persons must have enabled TeamsOnly, that is, Skype for Business is no longer used and instant messaging, calls and conferences are conducted via Teams.
Calendar
This feature shows the contents of my work calendar. From here, you can attend or schedule a meeting or even create a quick meeting with one click.
Meetings
In Teams, this feature enables extremely efficient work independently of the location, thanks to their ease of use and versatile features, including:
Topics can be worked on before and after meetings: the meeting chat and information are available once they have been created, and they can still be accessed after the meeting. The topics can be flexibly communicated to the participants via the meeting chat function instead of email messages.
Improved, adaptive AV quality and AV device switching in the middle of a meeting – without interruptions
Where traditional two-way meetings can have 300 participants, in Teams Live events, the presentation can be streamed to up to 20,000 participants. With Teams Advanced Communications it is possible to have 1000 interactive attendees and 20 000 view only attendees in meetings.
Screen and program sharing with the participants – the screen sharing feature also includes a zoom function
Each meeting includes a Microsoft Whiteboard for drafting and innovation
Subtitles – based on personal experience, this works surprisingly well for English spoken with a Finnish accent
Background blur and custom backgrounds– which makes it possible to focus on a person and topic instead of a distracting background
Together mode in meetings helps to engage people better while lowering online meetings fatique
The Teams mobile app also enables flexible participation in meetings "on the road": you can share your mobile device's screen, camera or even files to show them at the meeting – or you can simply use your mobile device as a remote control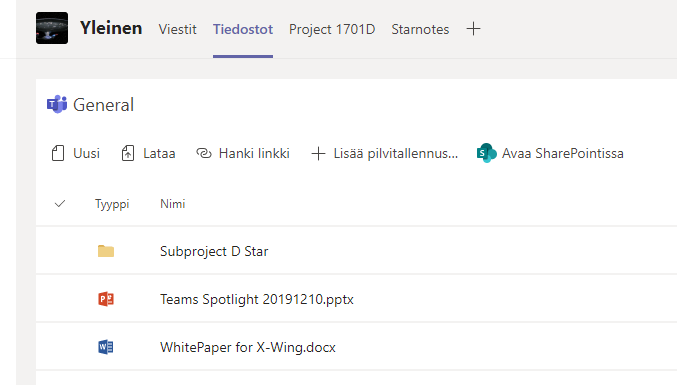 Teams
Where teamwork happens. Teams are formed, e.g. around a specific project or part of organisation (for example, finance or the management team). In the teams, different topics are divided into channels with each their own chats, files and tabs. This is one of Teams' core functions where the "magic" happens. It also makes it possible to minimise internal email messages almost entirely.
Chats via the channels (including history) keep everyone up-to-date regarding the subject; mutually edited files remove the need to update a latest version of each copy (each document has only one home base!); and each team member has access to all of the resources required by the team via the subject channels, files, tabs and applications. In addition, the new private channels allow smaller teams to work securely under the same theme – without separating data to different teams. The teams also make it easy to include new members because all of the data is available in one location.
Calls
This feature makes it easy to call different contacts or listen to received voice mail. The Calls section is most useful when Teams is connected to a telephone network. However, even without this feature, user grouping and being able to view the space make life easier. Personally, I tend to use the chat function more, which also provides a natural way to start a call. This is another example of how Teams can be flexibly adapted to the needs of different users.
Files
This feature enables easy access to my latest files that I have been working on. The files can be located in teams or my OneDrive for Business. How about SharePoint files? Naturally, you can find them via the team tabs – you can link a SharePoint document library directly as a team tab, which makes it possible to access non-team files without leaving the team! Each team also has a dedicated SharePoint workspace, so the team's Files tab actually provides a view of the SharePoint library – in a user-friendly way, typically of Teams! And the sharing of file links has recently been updated to be even easier to manage and share links to others.
Shifts
This feature enables shift management and introduces self-service features, for example, for changing shifts. The Teams Shifts application also includes working time scheduling features. The application is always linked to a team, so the employees have access to the team's chats, files and other necessary resources.
Search box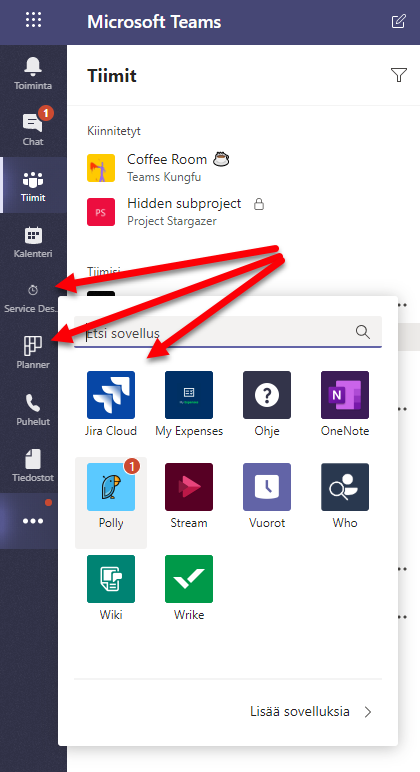 Teams has a search box at the top centre of the screen. It enables you to use shortcuts, e.g. call someone, change your status or see the chats you are tagged in. Contextual search (Ctrl+F) also enables you to look for the information related to your current context – a channel chat for example.
Applications
Microsoft Teams is a platform that can be scaled using applications. This has been clearly highlighted during the first half of this year and the trend is even higher for the next year. Applications can be added, for instance, as tabs in channels, extensions in chats and messages, bots or easily accessible tools in the menu on the left-hand side. In addition, it is easy to make integrations with Teams using connectors and, especially, the workflows of Power Automate (previously 'Flow').
The '…' menu provides access to the other installed applications, typically OneNote, Planner, Stream, Shifts and Yammer. There are also many other applications available for Teams, such as Shifts, Dynamics 365, Azure DevOps and YouTube as well as a large (and ever increasing) number of third-party applications, including Jira Cloud, Polly, SurveyMonkey and ZenDesk. It is also easy to create applications for your company's specific requirements using PowerApps, which turns Teams into an interface that supports the work of different organisations and teams.
The organisation can also add applications for the users in the left-hand menu. Soon, users will also be able to drag applications from the same location to make them easily accessible. Early this year, the Tasks application and Yammer will also be easier to use via Teams thanks to new own apps. Applications make Teams a true teamwork and work hub, which enables the user to focus on the work instead of hopping from one application to another!
With the latest feature addition (Dataflex) it is even more easier to create PowerApps and Bots (Power Virtual Agents) into Teams, boosting the possibility to use low-code/citizen developer enhancements to teams and teamwork.
Step into the meeting room
Microsoft Teams Rooms (MTR) are a contemporary equivalent of Skype meeting rooms. The Teams Rooms enables users to enter a meeting with one click or even add a room to a meeting on the fly. These rooms include dedicated equipment, and some of the Skype meeting rooms can be updated into Teams rooms or to support joining Teams meetings.
The Teams Rooms enable the equipment in the rooms to be easily connected to meetings and make it easy to create a meeting. As an added bonus, it is no longer necessary to fiddle around with various cables and adapters.
With a Teams Room is included in the meeting, the persons in the room and the online participants can be brought "around the same table" to concentrate on the subject at hand instead of configuring connections. If the meeting involves a flip chart, it can be included using the Content Camera, which enables the view to be shown online in real time instead of settling for showing images of the flip chart pages at the end. The larger the organisation, the more useful the Teams Room due to fewer user issues.

Teams Meeting Room
The Teams Rooms can be easily scaled from small (1–2-person booths) to large conference rooms (with dozens of seats). Typically, the basic conference rooms come in two different sizes (4–6 persons or 8–12 persons).
What's more, the Teams Rooms equipment for them is reasonably priced. Admin is also usually interested in the fact that the equipment of the certified Teams Rooms can be updated, and largely maintained, via a web interface, which makes is possible for maintenance operations to be carried out centrally.
Would you like to test a Teams Room? Please contact us and we'll make it happen!
Microsoft Teams is a continuously developing solution and platform that, once successfully deployed, makes it possible to modernise organisations' ways of working and cultures, enable smooth collaboration and minimise emails. Would you like to deploy Teams in your organisation or receive the system fully deployed? Get in touch with us!
Microsoft Teams in 2021?
Whats's next?
By using Microsoft Teams together with Power Automate, you can automate many of your business processes. Or would you want your Teams environment to be easier to manage and use?