23.9.2020 • Modern Work
Teams news summary of Microsoft Ignite
#MSIgnite, the Microsoft Ignite 2020 – did it again. The big and beautiful Microsoft tech and developer conference delivered again tons of announcements, news and information. In this post I am focusing on Microsoft Teams related news.. and I am not trying to list all of them but ones I see the most essential + a few picks from the roadmap that make sense in this context. There are some "old" news with updated schedules and then again I did left some out in purpose. And this is still a long post – If you are in a hurry check out news marked with 
 and come back later for the rest.
When there are new interesting announcements or additional information later I will update this article to include them as well. So please come back again.
As always, it is good to remember that roadmap dates are "best estimates for release product group can give today". They are subject to change but they give idea when features can be expected to start the rollout. For currently known estimated schedules (23rd of September) I listed all roadmap dates to a summary blog post to make it easier to have a one-glance view when these can be expected to be available for users.
Of course one important link to keep on checking is the M365 roadmap for Microsoft Teams in development and rolling out features – including several of these: https://www.microsoft.com/en-us/microsoft-365/roadmap?filters=In%20development%2CRolling%20out%2CMicrosoft%20Teams
Microsoft Ignite Books of News can be found here: https://news.microsoft.com/ignite-2020-book-of-news/ for all announcements in Microsoft Ignite 2020
Microsoft Teams will support teams up to 25k members later this year! I just leave that there because it will be enable the use of Teams in larger organizations than before – without a need to break the organization to smaller teams. Thinking about other releases like PowerApps for Teams, Pinned posts, Home Site App and others it enables to use Teams as a platform – or 'operating system' for daily info work. In some organizations this will lead Teams to be the main internal social media when team structure (channels, context, tabs, apps, use of business processes) is built smart and lasting way.
Together Mode was a success when it emerged during the summer. It has helped to fight the meeting fatigue already since it is refreshing and I can see everyone at one glance. On top of that it can be also fun since you can high-five your friends and useful since raising your real a hand is very nicely visible in the Together mode. Now this gets better since it gets new screens: new auditorium, conference rooms or and even a coffee shop. Together mode will also be enhanced with a feature that automatically scale and center participants in their virtual seats, regardless of how close or far they are from their camera. Release schedule is later this year.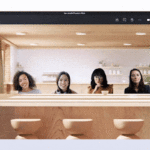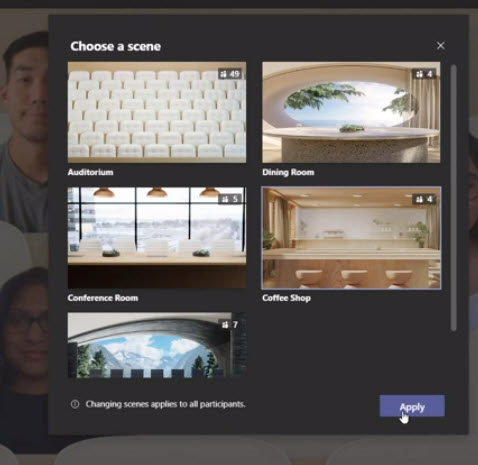 The other greatly anticipated features was been real Breakout Rooms and they are coming out really soon: October!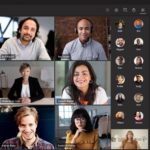 Breakout Rooms allows meeting organizer (the one who created the calendar invitation) to split meeting participants into smaller groups by creating breakout rooms. Teams can distribute attendees automatically to rooms. The organizer can then start rooms and visit any one of those or make announcements that reach out every room. When rooms are closed all attendees are returned to the main room.
Custom Layouts make meetings look better via enabling dynamic experience. Presenters can enable different views where both video and content are visible at the same time – including overlaying video on content or prioritizing video while moving content box to a corner. For example, they can choose for participants to see the presenter's video feed transposed onto the foreground of the content being presented on screen. This feature uses the same AI segmentation technology employed by background blur and Together mode.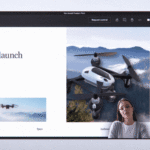 This makes it possible to create more versatile and interesting presentations with just Microsoft Teams – without having to use other tools, like OBS Studio for example, to manage the stage. Custom Layouts are coming later this year.
Meeting Spotlight is already rolling out to tenants! Spotlight allows a presenter to choose the video camera that is shown to all attendees. This differs from "Pin camera" in a way that pin camera was a personal setting while Spotlight affects all attendees.
Create tasks from chat and channels, will available in the next few weeks. This feature has been awaited since Microsoft To Do came out. It allows to create tasks right from any Teams chat or channel conversation. Select More options on a Teams message to choose Create task and track in the Tasks app.
Customizable Praise badges, now rolling out, enable organizations to customize employee praises with custom branding. Admins can customize Praise in Teams Admin Center
Meeting Recap brings post-meeting experience to the new level by bringing in together all relevant meeting information like the recording, chat, shared files and for example transcript in the details tab. You can also download attendance report from this screen.  Live captions with speaker attribution is now rolling out and will be also part of the meeting recap. Enabling the meeting transcription is a great way to automate note taking – when the meeting is in English.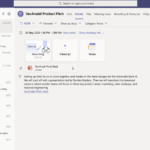 Meeting recap is coming this year.
What is also change is how meeting recording is stored and managed. In the future (scheduled to be released later this year) meeting recordings will be stored in OneDrive or SharePoint site. This enables to manage recordings just like any other file allowing permissions and sharing (external sharing! Hooray!) , retention policies, governance, immediate recording availability right at the meeting end much more. Since recordings will be files in OneDrive/SharePoint they are also included in the search.
Large meeting support is a bit of old news already but we got more details out. The Teams meetings supporting 1000 interactive participants is coming by end of this year. And meetings exceeding 300 interactive users can scale to support 20 000 participants in a view-only mode with live captions. This overflow meetings is rolling out soon . Both these capabilities are included only with Advanced Communications add-on.
Registration and engagement reporting, in other words webinar support, is coming to Teams! This includes new attendee registration process with automated emails and it will make it really easy to organize webinars and events when this rolls out! It also includes a reporting dashboard to post-meeting insights and attendee engagement analysis.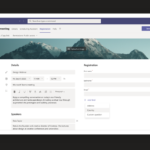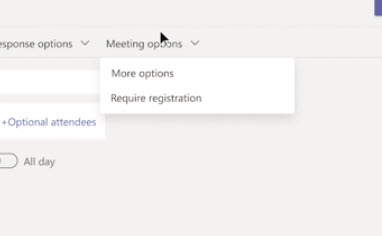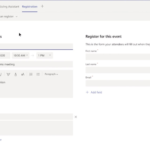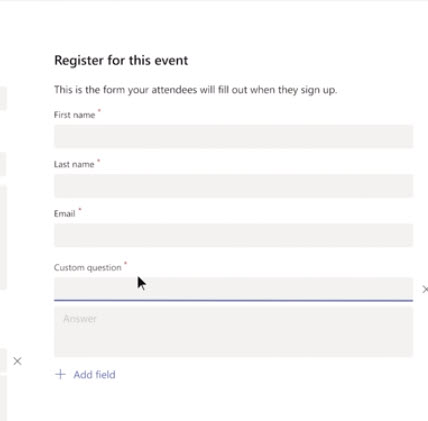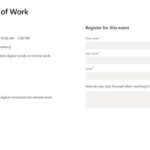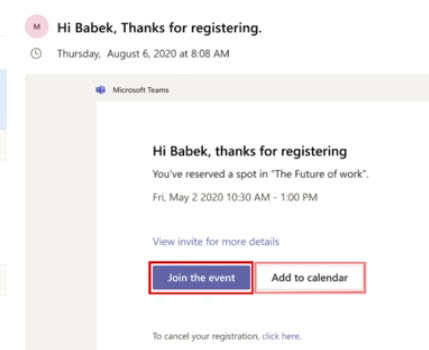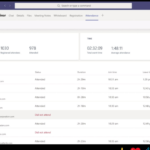 Also the Q&A is included in the attendance report.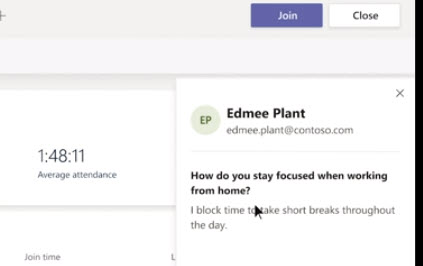 Scheduled for release this year.
Teams Templates are now rolling out! This updates the team creation experience and allows Teams admins to manage templates & their structure that are available in the organization by defining channels and apps. New templates can be created by selecting an existing template or building a new from the scratch.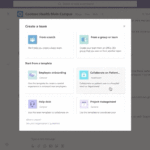 Info Pane emerged earlier this autumn but now Pin Posts and the New Conversation button are rolling out to Teams. The New Conversation should reduce the number of accidentally created new threads when users see better the difference between reply and creating  a new thread. Pinning posts allows to attach specific posts to the info pane so they can be easily opened later and important information (like vacation list or after-work activities or even project information ) is not lost when the channel has active conversation. To take fully advantage of pinned posts the info pane should be open – but it is just a touch of the button to open or close it so as usual: make Teams to suit your needs and don't be ok with defaults!
This month also sees the rollout of Suggested replies on Teams mobile. AI will create and suggest short responses based on the context of previous message.
The Teams Search is dead! Long live Microsoft Search for Teams! We all had our difficulties and anger moments with Teams search (while it did grow to be better and usable during years) but that will be soon a thing of the past when the new Microsoft Search is released to Teams later this year. This allows a better and more smart searching experience. When using Microsoft Search from Teams it is focusing on Teams vertical only. But that is not all – you will be able to search Teams (& Yammer) conversations from SharePoint (Conversations-vertical)! This is a small step for… No. Let's rephrase: This is a giant leap for both users and Teams.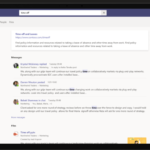 SharePoint Home Site App for Teams will connect your SharePoint Home site / intranet to Teams! Unlike those versions done with App Studio "Teams-ready solution" this app fully supports navigation in SharePoint sites. And that is big because organizations can start using Intranet from within Teams – and they can use it via browser as well. This truly makes Microsoft Teams 
SharePoint and they are #bettertogether. One giant leap to users and towards using Teams as the primary operating system for work. And yes, it is fully branded as well! Coming later this year.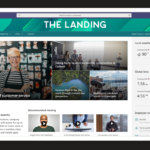 Insights app in Teams (Wellbeing and productivity) is coming to Teams starting in October. It will get new features like virtual commute and integrations with apps like emotional check-in experience during first half of 2021. Visit https://Aka.ms/ProductivityAndWellbeing  to learn more.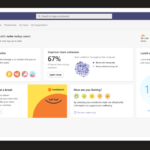 Yammer notifications will come to Teams activity feed when you are using Yammer Communities app. This way you will get Yammer notifications even when you Yammer app is not open. On top of notifications Teams users can search for Yammer conversations using Teams search bar!
Tagging by shift allows Teams messages to be targeted to recipient groups based on their role (tags) and the shift they are working – such as tagging or sending a message to every nurse, doctor or security personnel on duty. Users are automatically assigned to tags based on their Shifts app schedule. Rolling out in November.
Walkie-Talkie is now available on Android.
Off-Shift access controls, rolling out in October, will let admins to configure Teams to alert employees when they accessing Teams app on their personal device outside of working hours.
Microsoft Teams Rooms (MTR) is getting a Meeting room capacity notifications warning message. MTR Analyzes data using meeting room cameras to count the number of people in the room and if the count exceeds the capacity defined for the room by admin a warning message is displayed.
Coming soon: Coordinated meetings with Teams Room and Surface Hub using proximity or one-touch join this enables both devices join the meeting simultaneously with Teams Rooms running audio and video, while Surface Hub is automatically muted to avoid any distracting feedback. During the meeting Teams Room is used to show attendees in the meeting gallery, while the Surface Hub is used to show content or to conduct a collaborative whiteboarding session.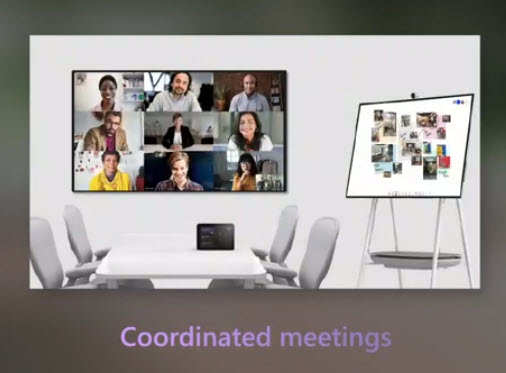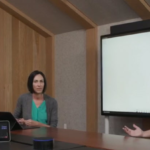 Another coming soon for in-room participants will be able to control Teams Room and collaboration bar devices using the Teams mobile app. The new room remote experience enables users to mute and unmute the room, adjust audio volume, turn cameras on and off, and exit the meeting. Wireless casting will be enabled to any Teams Room, collaboration bar, and Surface Hub. Beginning later this year, voice assistance will be enabled for Microsoft Teams Room devices, allowing in-room participants , in US, to ask Cortana to join and leave a meeting, and add a phone number or participant from the address book to a meeting. Read more from Meeting Room Experiences blog!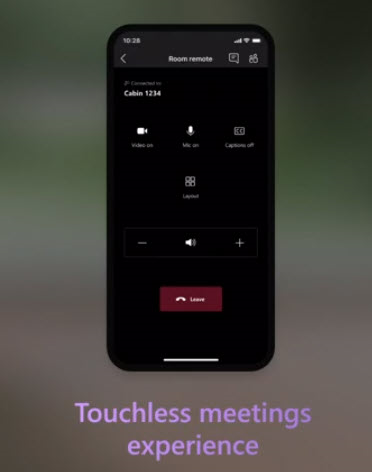 Intelligent speakers were also shown in demo sessions with mention they can identify who is speaking in the room and that information is used in Live Captions/meeting transcription to speaker attribution. Currently there isn't much information available about these devices.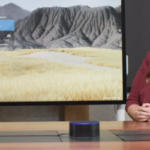 Microsoft Teams Panels is a new category of devices for Teams but we have seen similar panels from other vendors to be used with different solutions: these can be mounted outside a meeting room to easily view upcoming reservations, see availability or to reserve the space for example. Building Floor plan is a catchy new feature there to help booking a another space in the office using "Nearby rooms" feature to find a empty room.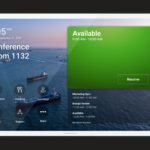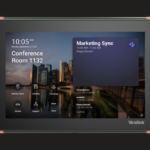 This is expected to pair with Teams Room device but it will work standalone as well with ordinary meeting rooms. First panels will come out from Crestron and Yealink early next year.
There are also lots of improvements to Teams Calling experience. First one is the upgrade to new Calling view and Collaborative Calling that connects a call queue to a channel in Teams. Users can work at the channel while taking calls in the queue.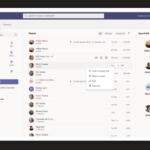 Admin and Development news and announcements
Bulk policy assignment allows admins to apply policies in batched of up to 50K users.
Line-Of-Business (LOB) Teams app catalog with organizational branding.
Enterprises want also keep the data secure. Customer Key support is coming to Microsoft Teams as well. It is similar to what is already in Exchange Online, SharePoint Online and OneDrive: adding a layer of encryption with organization's own keys when data is at rest in Microsoft datacenters. Public preview starts at the end of this year.
Microsoft Graph API for Teams Data-Loss-Prevention (DLP) is rolling out. This allows developers to build apps that can listen to Teams messages in near-real time to enable DLP scenario implementations and it also allows applying DLP actions to Teams messages.
Microsoft Graph API for Teams Export allows the export of Teams messages (1:1 and group chat) along with attachments like file links & stickers, emojis, GIFS and user at-mentions. API also supports polling daily Teams messages and allows archiving of deleted messages up to 30 days. This should help with various archiving scenarios.
Resource-Specific Consent (RSC) team owners are empowered to install an RSC-enabled app for their specific team and restrict the app's scope and access to data to only that one team, without needing the global IT admin to provision access. RSC allows apps to create, rename and delete channels; read channel messages; create tabs; and read team membership and settings. RSC are now available on the Graph API beta and will become generally available soon.
Single sign-on (SSO) through Azure Active Directory for Teams apps. Developers can build their apps to sign-in their users using the same account they are using to sign into Microsoft Teams. SSO support for tabs is generally available and support for bots and messaging extensions are coming soon.
Updates to Adaptive Cards for Microsoft Teams include design improvements, universal actions and cards, contextual views, and security & compliance. Design improvements include full-width cards, information masking, and incoming webhook support. Microsoft 365 Security & Compliance capabilities are extended to Adaptive cards, including eDiscovery and information protection & governance. Coming soon / this year.
Meetings extensibility with apps in meetings will allow developers be able to integrate their apps into Teams meetings and create scenarios that have deep awareness of the meeting context — including roster, roles, and permissions. I will explore this further because it enables to integrate meetings to be part of business processes via apps and also connect meetings to a context like customer, project or person in a new way. This will bring meetings to the next level in the experience that benefits from these capabilities. Great apps to integrate with meetings are, for example, polls – yes Polls!, CRM or human resources (interviews).  Generally available in October and there are more than 20 launch partners who have been integrating their apps to these new extensibility points already.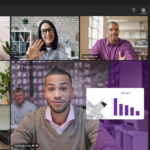 Power Platform in Teams highlights
Power Apps and Power Virtual Agents are coming! Now in public preview, generally available release is estimated to roll out at the end of the year. These will include embedded Power Apps and Bot creation studios inside Teams. During spring 2020,when I started to discover amazing capabilities of Power Virtual Agents, I didn't think that the intelligent conversational bot creation would become possible from within Teams! But of course the ability to create Power Apps, with relational datastores with rich data types, from Teams is even more important to businesses. Better together applies in this as well. And these solutions can be published to Teams app store to be used off the shelf or customized to specific needs. And the sugar on the top: Power Virtual Agent bots can identify the user who is interacting with them and thus allows personalized and user-context dialogue and actions.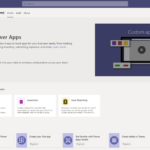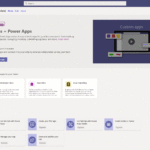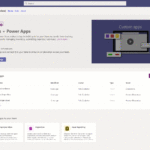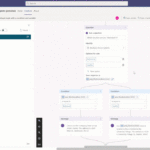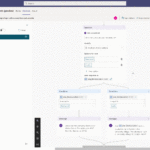 With Power Apps for Teams it is possible to create innovative apps that interact with team in channel.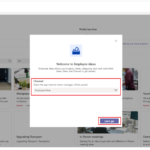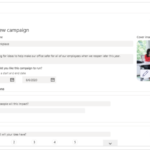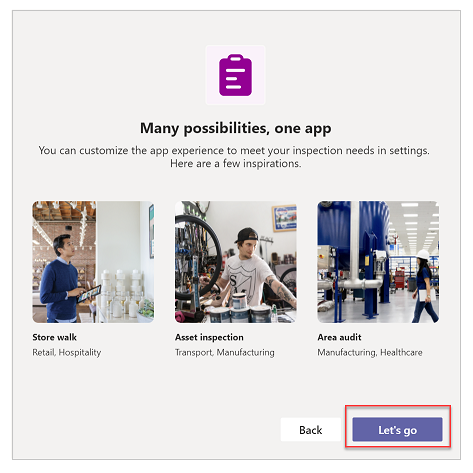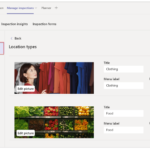 Read more from Power Apps blog post!
The new Power Automate app for Teams, coming later this year, is a rebranded and enhanced Flow app. It offers an enhanced set of templates to automate work in Teams, along with a new designer  experience that makes it even easier to get started building. Additionally, we will be rolling out new ways to automate work, including actions like creating a Teams meeting, as well as additional entry points such as message extensions and message actions.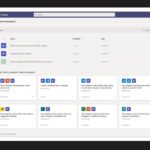 And looks at these new Power Platform logos!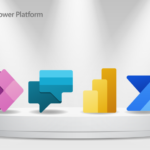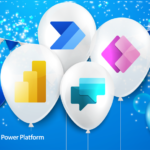 And it looks like the team has had some fun too! 
Approvals in Microsoft Teams via Power Automate will become generally available during October. This is great since it allows creation of approval processes based on a team and not a single person (who is often a bottle-neck).
Enhancements to the Power Bl App for Teams will make it easier to use and review Power BI data from Microsoft Teams. The new app rolls out by the end of year.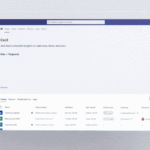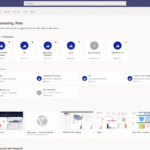 Something missing?
Read more from Microsoft Teams, Power Apps and other Microsoft blogs.
+ Virtual Hub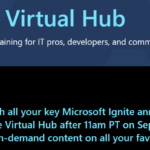 And there is always something more. This time it is the reminder to go ahead and visit the Virtual Hub!
This is the place where you can keep on learning and enjoying Microsoft Ignite for more. It is not just about Microsoft Teams but about all things Microsoft 365.
This blog was originally posted at My Teams & Office 365 Day