29.6.2021 • Modern Work
Microsoft Teams 2.0: New Teams Client and Windows 11 integration announced
Reports of the blog post Vesa Nopanen wrote to: https://myteamsday.com/2021/06/28/teams-v2/.
Last Thursday, 24th of June 2021, marked a great day – not just for opening Midsummer break in Nordic countries but especially for the announcement(*) of the new Microsoft Teams client along with Windows 11!
The new Teams chat, call & meet client was highlighted during the Windows 11 announcements & intro but the true gold information was revealed by Microsoft Teams CVP/CTO Rish Tandon in Twitter.
In that Twitter thread Rish revealed awesome facts about what to expect. I am sure there are millions of Microsoft Teams users who are eagerly waiting for these. (* I am referring Rish's tweets as this announcement for Teams)
Microsoft Teams will be integrated with Windows 11
Microsoft Teams 2.0 is in the making! It will update from current desktop application internals to Edge Webview2
The new client will consume less memory than the current one!
Long-awaited features like multiple-accounts, scale up, release predictability are going to be in the new client (this also means that currently we are stuck with the multiple-account issue: I have a blog post on best practices how to survive Teams with multiple accounts).
There should be a positive performance impact with the new client. Stated by Rish in his reply. Chromium will be used in underneath as it is also used by Edge. Edge is making Chromium better on Windows so Teams 2.0. will take advantage of that.
The two important promises for Teams 2.0.: Performance gain and consuming less memory (using the same consumer account) means that Teams 2.0. will run better on big number of computers what people are using daily. There wasn't any mention about the schedule yet.
Teams 2.0. seems to start with Windows 11 + consumer accounts, like in Windows 11 announcements. This can be a bit of disappointment for us enterprise users – to me this sounds like Teams 2.0 will replace Skype consumer or Skype consumer features will be assimilated by the new Teams. It has been speculated since the announcement about the end of Kaizala Pro so it is not a big surprise. I have understood that Skype consumer is heavily used in some regions around the globe, but there are lots of regions where it has already lost the user base. Of course this path will bring more sense &users) to Teams personal/for families edition.
The Teams desktop application is not going to disappear. Teams 2.0 is going to have a desktop application "Hybrid app" even when it will powered by Microsoft Edge. Integration with Windows 11 will open new possibilities how to interact with users.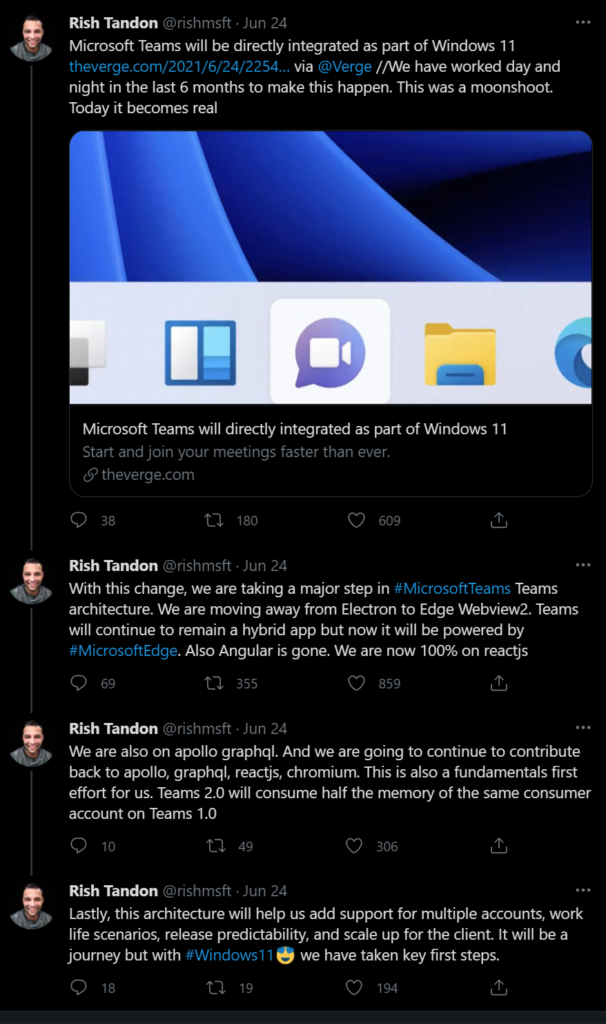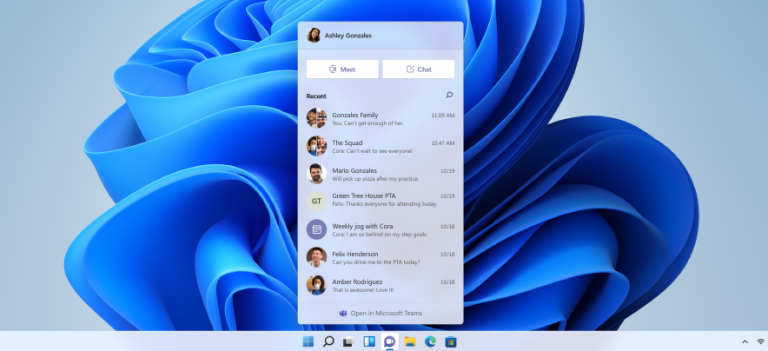 We can expect to have some discussions about how deep the integration with Windows 11 is going to be. Is Teams going to be a integral part of the OS and can it be removed or not. I didn't notice that anything was mentioned and since Windows 11 public release is still roughly half-a-year ahead there wasn't any details understandably.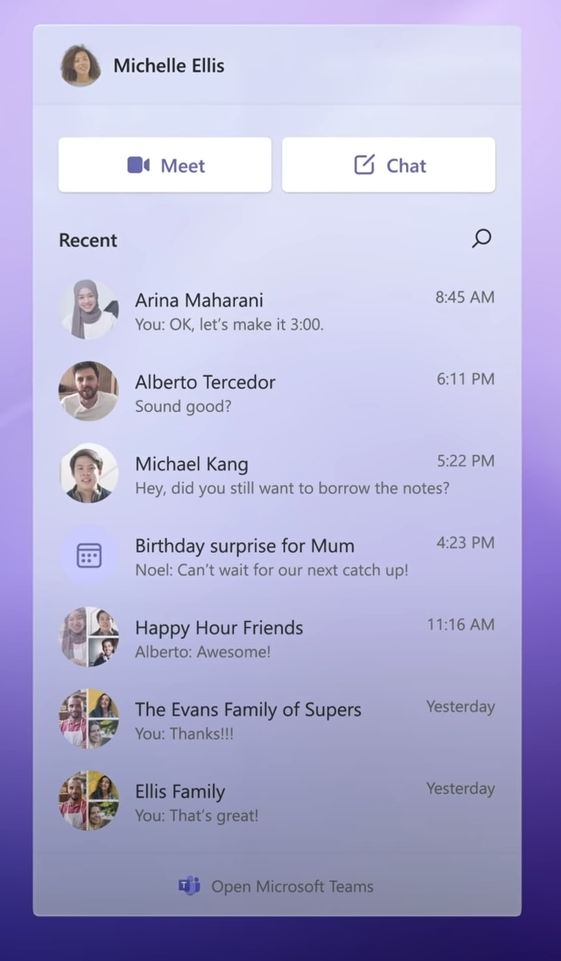 I really loved to see what other great features Windows 11 will bring to us. I admit – I am really thinking about testing out Xbox Cloud gaming already. Ability to run Android applications inside Windows also will make it a lot easier to interact with various other ecosystems – and skipping the need to use phone/tablet when you need them. This seems like a continuation to current Your Phone app & functionality.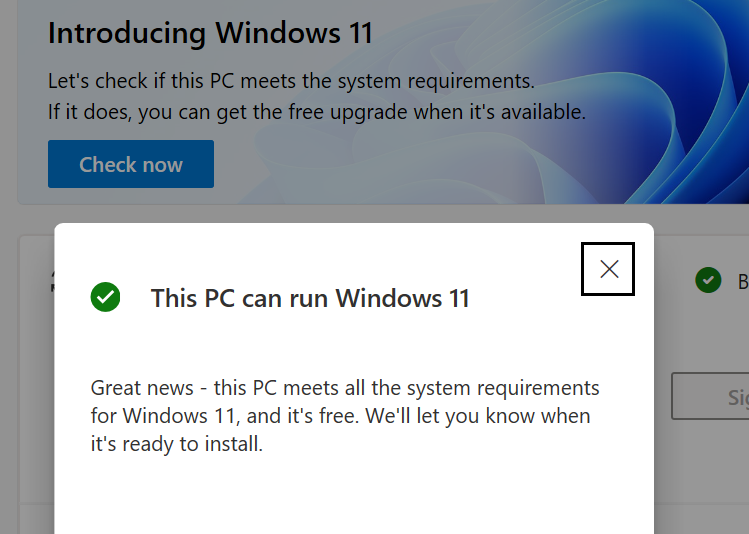 The new news feed looks really awesome and somehow Windows 10 notification feed just got really old.. The news feed and Teams integration got me thinking about how else Teams 2.0 could benefit from Windows integration.
Future Visioning Teams 2.0 and Windows 11 integration
What I really enjoyed is how Windows 11 starts integrating with Microsoft Teams 2.0. It is time to throw in Future Vision how Teams 2.0. and Windows 11 will be integrated and what it can bring us later. Disclaimer: this is purely me guessing / speculating and doing a vision how I think it can go forward.
From Windows 11 announcements I really loved the new news feed and summary feed. Widgets can make a huge difference. Just like Teams applications do.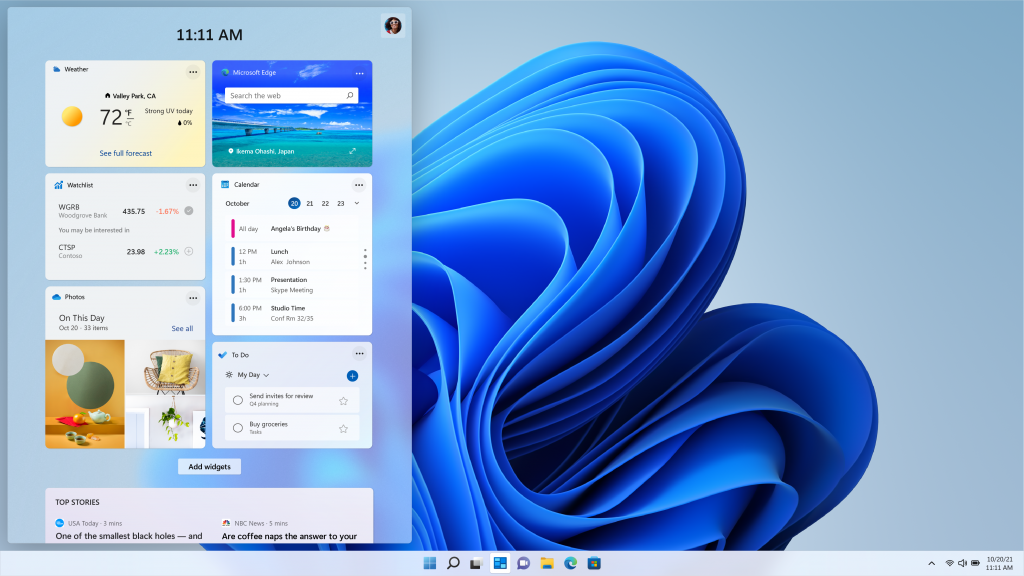 Some picture and text from Windows 11 introduction/announcement blog post by Microsoft.
"Windows 11 brings you closer to the news and information you care about faster with Widgets – a new personalized feed powered by AI and best-in-class browser performance from Microsoft Edge. Even when we're at our most focused and creative we still need breaks – a moment to check in with the outside world or give ourselves a mental reset. Today, we often pick up our phones to check the news, weather or notifications. Now, you can open a similarly curated view directly from your desktop. When you open your personalized feed it slides across your screen like a sheet of glass so it doesn't disrupt what you're doing. "
Rish also tweeted: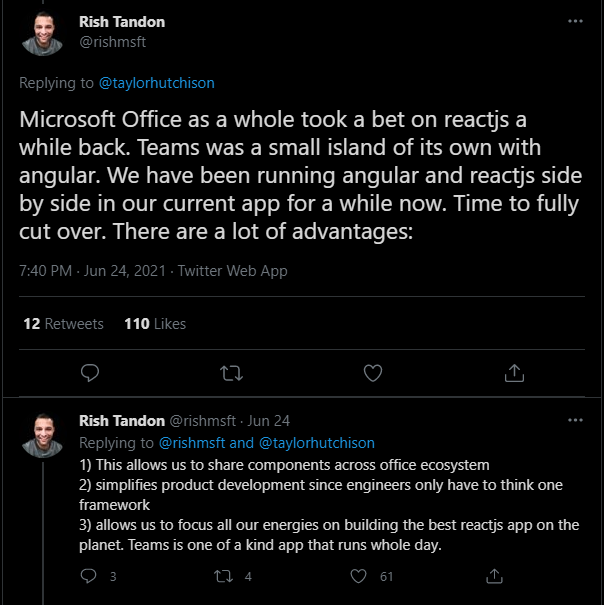 What about if you will be able to create Teams-integrated widgets (or Teams-apps) to that Windows 11 news feed?
It would open the possibility to interact with Teams and staying up to date with Line-Of-Business applications directly from Windows 11. Just like you are seeing those announcements in Teams activity feed, how far fetched it would to start thinking that Teams notifications would be actionable in Windows 11? You can already divert Teams notifications to Windows 10 notifications.
My predication is that in the future you can act with Teams apps, content and collaborate directly from Windows 11 – without having to open the desktop client.
You can already pop-out applications when using Teams Desktop client. Maybe those applications can be also added to Windows 11 in the future. Apps would still be delivered via Teams apps management but instead of having just the ability to "pop-out" the app there would be an option to "add to Windows desktop" as well? With user account and security integrated deeply with Windows 11 this would be an interesting option. This would take a step forward when you think:
Teams as a Platform: distributing LOB applications to Windows via Teams 2.0. The Platform of the Future
Teams is seeing more and more applications run inside it: Dataverse, Dataverse for Teams, Bots, Tab apps, Microsoft Viva and so on. Apps & permissions are easy to distribute to users via policies – and users will have access to them on any device: desktop, web and lots of apps work also in mobile Teams. Managing app distribution to Windows devices is getting more difficult with hybrid work-life computers (BYOD) and not even talking about mobile devices. Using Teams to distribute Line of Business applications to Windows would surely make a lots of sense: distribute once, use on any device you can log into Teams with. No, these would not be native-Win applications but Teams applications that could run in Windows. Bringing the ability to use then like other Windows applications would be the game changer. Perhaps some of those apps would be available in Microsoft Store when running a compatible device (and logged into Teams).
The starting story of Microsoft Teams had a lots of focus on focusing and avoiding multi-tasking, that would be changing with this path. Instead you could distribute parts of Teams workspace around your desktop & multiple screen in Windows 11 – basically spreading Teams components through out your digital workspace and desktops. All those windows would have to remember their locations (or be automatically arranged) when closed and reopened. Of course.
Using apps in different desktops/windows is partially possible already with Teams 1.0 desktop client: Teams meeting, apps and chats can be moved to different screens. However it is not possible to today take activity feed and drag it to a other window. Once you close Teams desktop.. all apps close today as well. Perhaps this would not be case in the future where Teams is deeply integrated with Windows?
Seeing Microsoft (vision/marketing) pictures made me think about this path and possibility. Acting with notifications is one thing (making it easier to focus and react quickly – don't forget you can use Focus Assist, Quiet Hours & other settings to help you focus better) but the ability to "move" the meeting to one or more displays (content in one, chat & participants in other one) , seeing Viva Insights and Viva Connections in one, specific team files on one corner, calendar in a certain area, having some of your Line of Business apps on others.. This is not far away from the situation today, but opening lots of apps to their own popped-out windows isn't very fluid experience and creates some extra load to the computer.
Instead of trying to have them all inside the same Teams apps you could have them all around Windows. Attaching some of them to your (virtual) desktop. It would really support the way I would want to work with Teams already today. Meanwhile I could just choose, if I wanted, to work with one Teams client – especially on a single screen device or when I want to have a more concentrated / compact experience.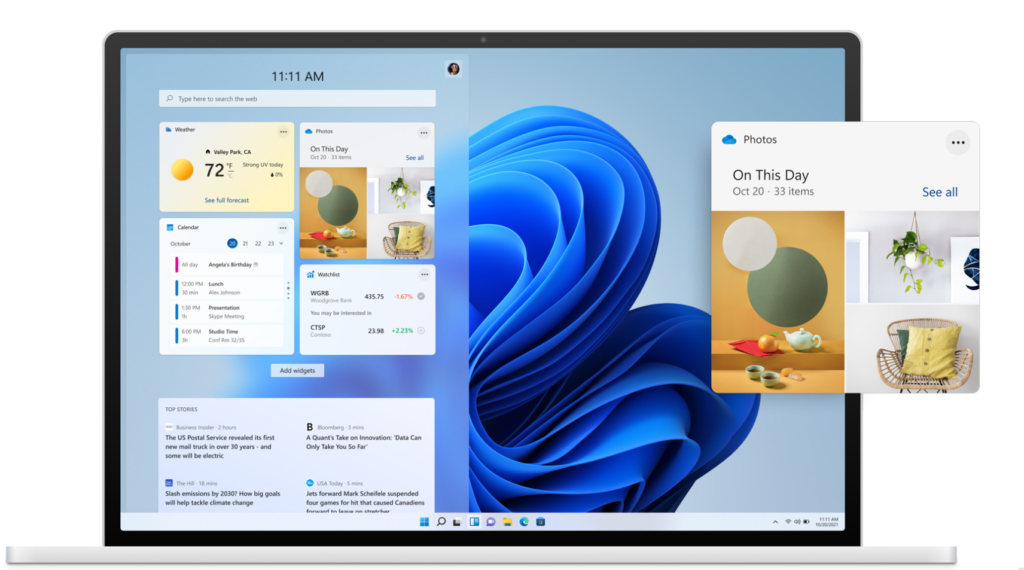 The story about being able to focus on what you do, even better, is there. With less app and context switching Teams + Windows will honor the focus assist / quiet hours set in Microsoft 365 / Windows to keep you focused when you need to, but on other times using Windows features natively to surface information for you to act.
The new hybrid world is also seeing a lots more monitors than we thought would happen – all setups from a single to multiple screens need to be supported. People work more from home than before – and it means they will have better home office setups than earlier.
What wasn't shown in the Windows 11 announcements was AltSpace VR. I wonder (hope, really) that it would be integrated to Windows 11 as well as it would be a very logical step to include more versatility. I have been a fan of virtual/augmented reality meetings for some time already and now it is making a lot more sense than before. But perhaps that is a different story to be told later.
I am really interested to see how my Teams 2.0 future vision in this article matches with the realism. I think we will know that in a year or two how well this hit the target.