12.5.2023 • Business digitalization and knowledge management Metaverse & AI
Industrial work will transform with new technologies and practices. Explore project results
Industrial workers will be able to handle several jobs with a single maintenance visit, thanks to new possibilities such as AR-powered real-time assistance from remote experts. Digital models will enable the worker to see precisely what needs to be done and to view key data such as the availability of spare parts.
In the event of something unexpected, the worker can discuss different solutions with an AI assistant. At the same time, the different devices used will collect data on the work task and surrounding environment – data which can then be used for work planning. All of this will take place flexibly and comfortably via an accessible user interface.

Future work scenarios like the one above are sketched out in a VTT (Technical Research Centre of Finland Ltd) -led project started 2022, which Sulava has participated. The project has explored the metaverse's impact on industrial work. Of particular interest are field workers, whose work has not been changed by the pandemic in the same way as that of knowledge workers. Such labour-intensive sectors include manufacturing, maintenance, construction and logistics for example. Participating in this project were Valmet Automotive, KONE, Finavia, YIT, Granlund, Telia, ZOAN, Sulava, Dazzle and Nordkapp.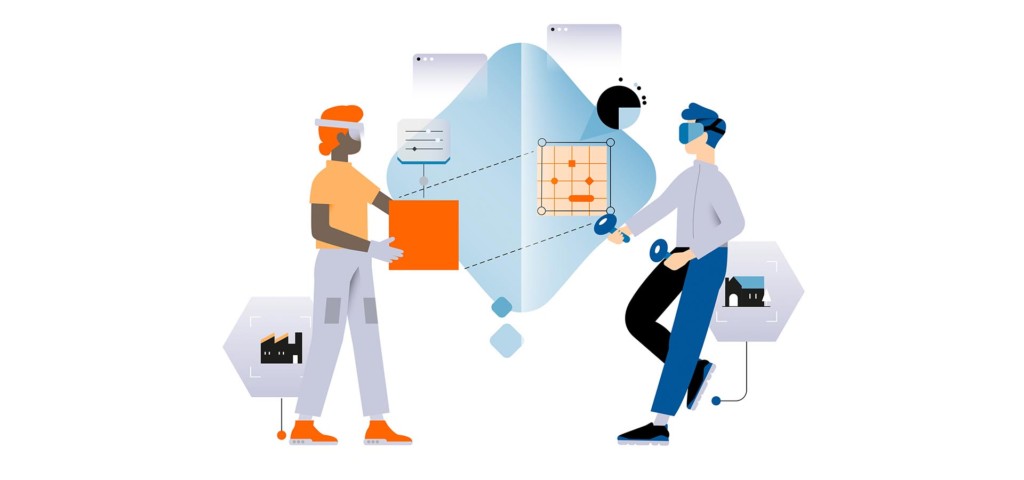 Everyone will not work wearing smart glasses in the future. Metaverse is part of a much larger transformation of the next-generation internet that extends to organizational models and smart contracts. The possibilities of the metaverse should be looked at from three different levels: individual employees, teams, and organizations.
"One of the most interesting emerging topics is decentralised autonomous organisations (DAOs). Through the metaverse, employees could offer their expertise flexibly to several different companies. Companies, in turn, could use remote experts through their own metaverse to efficiently perform individual tasks or work as part of a larger virtual team," explains VTT's Smart Manufacturing Lead Karoliina Salminen.
Successful use cases from training to remote-controlled inspections and planning
"At KONE, we have already successfully piloted various industrial metaverse tools. For example, we have trained lift installers within virtual environments and provided real-time assistance to maintenance personnel using AR and remote experts. Our goal in this is both to facilitate the work of our personnel and to continually identify new ways to serve our customers even better," says KONE's Head of Concepting Mika Kemppainen.
Based on the joint project, Sulava has created the "Metaverse & AI starter kit" service, which allows e.g. analogue spaces and devices to be digitized afterwards with the help of sensors and digital twins.

"Today, all factories and equipment, from elevators to electric toothbrushes, are created directly in the cloud, but in the past decades, a huge amount of industrial infrastructure and facilities have been built that it is hoped will continue to serve in the coming decades. The Metaverse & AI starter kit meets the service and maintenance needs of these resources, among other things," comments Karoliina Partanen, Chief Future Scientist at Sulava.
Some interesting areas of application within YIT's business environment would be work orientation, work guidance, and the use of extended reality (XR) solutions such as remote monitoring and remote-controlled inspections and surveillance", explains Chief Technology Architect Janne Torppa from YIT, and continues:
"Within the metaverse environment, we could examine with greater clarity and detail the impacts of different design solutions before their actual implementation. This could also bring a potential boost in marketing and sales, as the creation of digital twins for homes and other properties enables customers to explore them within a very life-like environment"
"Metaverse and artificial intelligence both bring new dimensions and opportunities for streamlining business processes. The animated and intelligent 3D contents of the future will break down the ways of working, but at the same time, the demands will also increase. Product development and "game-like" content must be more comprehensively adapted to serve all areas of the business," comments Olli Lipsanen, Director of Business Applications at Sulava.
Work and work communities in transition
Through this project, it has become even clearer that industrial work is undergoing transformation and companies are ready to change the way they operate. It has also confirmed assumptions that there are many common factors in the work carried out in different industrial sectors. Such cross-sectoral challenges can thus be turned into opportunities for solution providers to offer their services to a wider market.

Although the direction is clear, there are still open questions. Some of the key areas for the joint research with industrial companies include: the cognitive strain of hybrid work; the role and significance of the work community; operating practices and rules; privacy, security, and data management; and other technical solutions such as integrations and data transfer.

Different forms of hybrid work will become prominent in both independent and team-based tasks. Work can be done remotely in a virtual working environment and shared virtual workspace or alternatively in a real working environment which also harnesses VR-based data, expertise and tools. The wide potential of AI was made clear to all at the latest through ChatGPT. An efficient and context-dependent flow of cooperation and seamless communication between employees, robots and AI are the key to future work.

"In this development, it is also good to remember our ageing population and the "tacit knowledge" that accompanies it. Especially in industrial processes, the modernization of information into the world of the metaverse is especially important for our competitiveness. This is also what we are investing in – bringing different stakeholders and age groups together to build business processes in which traditional technical know-how and future virtual content are seamlessly matched," comments Lipsanen, and continues:
"Although the metaverse is an abstract world and the content is virtual, we cannot forget the person in the midst of change or the benefits that we are concretely pursuing. The measurability of business results and the person's ability and motivation to keep up with this change are both strongly involved in the work of Sulava!"
"If people lose interest in industrial work, Finnish industry will face serious problems. Thankfully, Finnish companies are well placed both to ensure the vitality of Finnish industry and to provide global markets with technical solutions which enable transformation of work," Salminen concludes.
Original news on VTT:s newsroom
Article about the beginning of the project
Further information:

Karoliina Partanen, Sulava Chief Future Scientist, firstname.lastname@sulava.com
Olli Lipsanen, Director, Business Applications, firstname.lastname@sulava.com