Webinar on Hybrid Active Directory and Azure Active Directory
Topic: Webinar on Hybrid Active Directory and Azure Active Directory
Time: 15th of April 2020
Host: Sami Laiho & Kimmo Bergius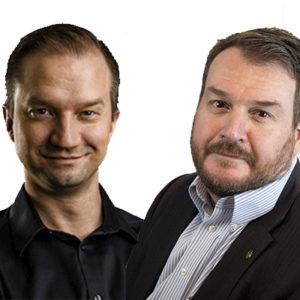 Active Directory has been around for 20 years, since the time of Windows 2000, and organizations have utilized Active Directory for both as their primary location for user identities and for management for identities and workstations. Azure Active Directory is a much later technology, and many organizations use AAD for cloud identities.
This webinar will cover both directories and gives an answer on how to utilize them together and how to utilize them securely. The webinar is divided into two parts, the first part will focus on Active Directory and security in AD. The second part will focus on Azure Active Directory, creating a hybrid between AD and Azure AD, and security within the Azure AD environment.
Agenda
Implementing Proactive Security On-prem and in the Cloud
Best practices in Securing AD and AAD
Implementing Baselines
Implementing Disk Encryption
Implementing Principle of Least Privilege
Implementing Whitelisting
Implementing the Tier-Model
Implementing Privileged Access Workstations (PAW)
Integrating On-prem AD with Azure AD:
Requirements for a hybrid environment
Implementing a hybrid configuration between AD and AAD
Device authentication and management in a hybrid environment
Implementing Conditional Access
External users in Azure AD
Applications in Azure AD
Best practices for securing Azure AD
About the hosts:
Sami Laiho is one of the world's leading professionals in the Windows OS, Security and Active Directory. Sami has been working with and teaching OS troubleshooting, management, and security since 1996.
Kimmo Bergius works as the Chief Technology Officer for Sulava Oy, one of the world's leading partners in Microsoft cloud technologies. Kimmo has more than 25 years of experience with Microsoft technologies and has been working with the Microsoft cloud since 2010.
Webinar recording